As parents, it's not always easy to know when you should push your kids to keep going, or when you should abort a trip, and change plans.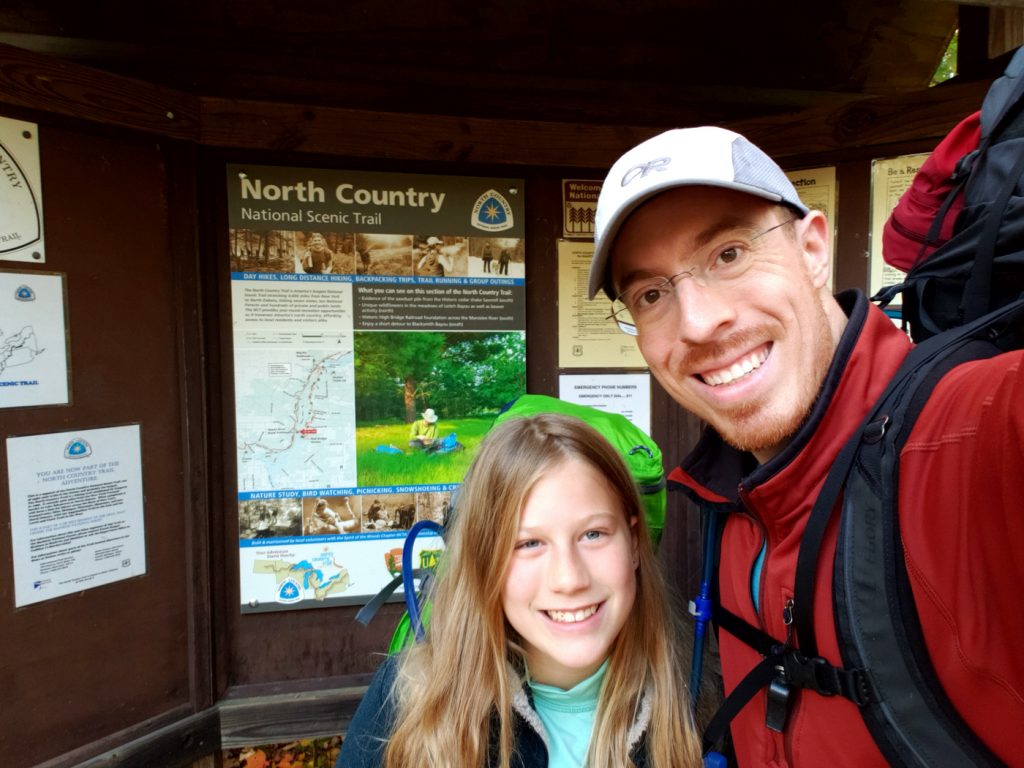 Pushing with benefits
The times I've pushed my daughter to keep going has usually been rewarding. Most of those times have been her wanting to quit because of fear, or it being physically challenging. She's very proud of herself when she overcomes a challenge, especially when it's her own thinking that has set those limitations. There are so many lessonable discussions that can happen too, that it's an awesome time to impart some fatherly wisdom when she conquers her fear and pushes on.
In the short film we made together, Climbing Monster, she had a mental block about making it to the top before we filmed that scene. It happens to a lot of adult climbers during various times in their climbing activities, and is not unexpected in a child at all. I still don't know what triggered her fear, but I'm glad we were able to overcome it together. The film shows how exuberant she is at the top too, and that part is not an act at all. She was genuinely proud of herself for finally overcoming that fear and topping out on the climb.
The lead in
We just got back from a planned fall backpacking trip in upper Michigan. Trips like this aren't always easy logistically, due to distance, schedules, and the weather. So when we have to bail and stop a trip short, it's not on a whim, but sometimes it is necessary.
We had planned to do the Manistee River Trail to North Country Trail loop ("MRT NCT loop" if you google it). It's beautiful, especially with the fall colors coming in. I did the loop two years ago with a good friend, and we really enjoyed it, even though it poured down rain from 4pm on the second day, till we got back into the truck on the third day, 23 hours later. The loop is approximately 22 miles, though it is a fairly mild hike, and I was looking forward to the #daddydaughtertime that would ensue.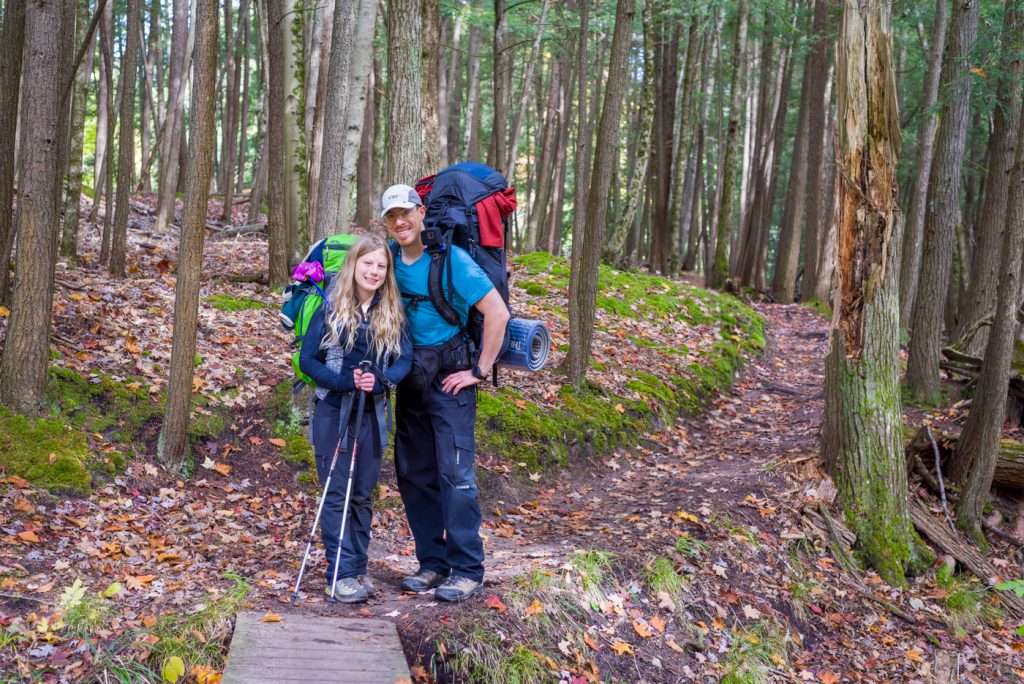 When it's no longer fun
A few things contributed to this trip failing:
A late arrival to the trailhead
Hiking longer than anticipated to find a campsite
Blisters
Every trip I have gone on, Google Maps has always given me solid directions, but never solid time. Our late departure from the house, coupled with more time in the truck than anticipated, didn't give us much time to hike before it got dark. This has solidified my belief that if a trip falls between an estimated 4 to 8 hours of driving time, you have to add in an extra hour to whatever Google Maps tells you. Mostly due to the fact that you are destined to pass through multiple construction zones wherever you travel.
With the good weather, the area was crowded. This was my third time to this location, but I've never seen crowds like this before at any trailhead. Easily 40 cars, overflowing the small parking lots at the trailhead. This had us hiking past numerous occupied camp sites, in search of an empty one. This didn't bother me too much, but it really took the joy out of the trip for my 11 year old.
When we finally arrived at camp, we had roughly 30 minutes till total darkness was about to set it. She wanted to try to get some food while there was still light, and worry about pitching the tent after dinner. I obliged, as I wanted her to enjoy the trip, but dinner ended up making her sleepy… And she didn't get to eat dinner while watching the sunset over the river like she wanted, instead we ended up eating with headlamps. So when it came time to set up the tent and get a fire going for dessert, she opted to just go to sleep and skip the fire.
I really believe the lack of a campfire made the trip lack luster for her. It's something she always looks forward to when we go backpacking, but we have never had to search for firewood in the dark before. She was also slightly uneasy being in an area with black bears. Even though I know they won't bother us, she is 11, and to her the fear is very real.
She managed to develop some blisters on her heels, and didn't tell me until it was too late to prevent. By the time I taped them with moleskin, they were already irritated.
I've mentioned in other blog posts that children are more sensitive to comfort than we are. Us crazy adventuring adults will head off into the wild, put up with mosquitos, blisters, cold, heat, sore muscles, and a host of other discomforts because we recognize the journey is worth the minor irritations. Not too many kids will do that. Mine will tolerate some things that are uncomfortable, now, after doing it with me for many years, because she too sees the beauty in the places we travel and knows it isn't easy to go see these places. Sometimes though the discomfort gets the better of her, or there are too many discomforts combined, that she doesn't want to keep doing it.
The right decision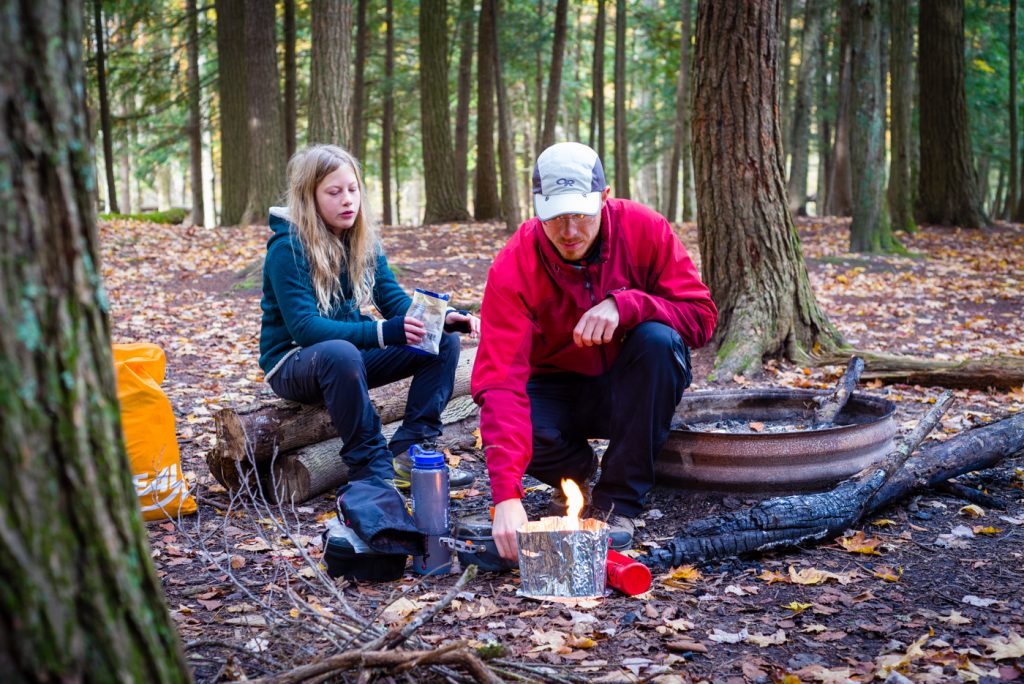 …So we turned around. We had a very relaxing morning. We made pancakes, took our time, and slowly made our way back to the truck. I reassured her several times that I'm glad we came, and that I wasn't upset that she wanted to abort the trip. We got a lot of wonderful pictures of the natural beauty in the area, and many of us too.
Rather than keep pushing her to continue, and end up having her not enjoy the trip, which at her age could jeopardize enthusiasm for future trips, we made the best of the situation, we laughed and goofed off, and we ended up with both of us leaving with fond memories of the trip.
The crowds also had one benefit: We got to pet more than a dozen dogs on the trail.
I've learned that when it comes to personal challenges, like the mental block of climbing to the top, it's usually good to give some tough encouragement and push her to do what she is capable of, because it often leads to her being proud of herself for not quitting.
When it comes to physical discomfort though, or an unabatable fear of bears, it's best to not push your kids, so you don't destroy their enjoyment, and they can look forward to the next adventure. I estimate we ended up hiking 12 miles total, and I'm proud of her for keeping her smile, even though I know her heels were hurting her.
There will be more adventures. Your kids will look forward to the next one, especially if their memories are good.